Parun

Basic Information

Aliases
God of Debauchery, The Vagabond
Pantheon
Chaotic Neutral
Home
Traveler
Former home(s)
Tartarus (Many times)
Gender
Male
Race
Empyrean Titan
Class
Bard
Portfolio
Revalry, Trickery, Luck
Primary Cleric Domain
Trickery
Secondary Cleric Domains
Travel, Fate
Holy symbol
Silver Coin

Dates

Date of birth
Unknown
Date of accension
Unknown
Date of death
Unknown




Statistics

Level
Unknown
Alignment
Chaotic Neutral
Favorite item
Unknown
The
Empyrean god
of debauchery takes many forms, often appearing as a humanoid vagabond. He is very fond of mortals and even more fond of parties and practical jokes. His jokes can sometimes seem cruel and he will occasionally impersonate individuals for years, building relationships before disappearing in a puff of smoke with no explanation. Leaving loved ones confused and distraught.
In addition to being patron of the arts, Parun is a patron of humanity. He works to promote humankind because he feels particularly bad for them, living short lives of struggle and hardship. This is sometimes mistaken as promoting human superiority, such as the Cult of Unex who attribute several natural phenomenons and human abilities to Unex.
Parun often bumps heads with the more lawful aligned gods and has been an active enemy of them in the past. He has spent more than a fair amount of time in Tartarus.
Despite this, the Empyrean Church knows that celebration and luck are important aspects of life and commonly toast to the exploits of the Vagabond.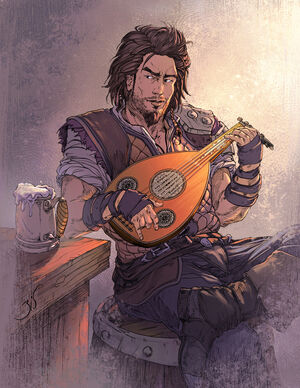 Cleric Domains