The Small folk are by nature joyful and friendly in their dealings with others. Because they live in a world where they are surrounded by larger creatures, halflings and gnomes tend to avoid notice, often deliberately, or at the very least, act cordial towards the larger races. They may appear deceptively harmless, meaning they are often beyond the notice of enemies that might otherwise pose a threat to them.
Gnomes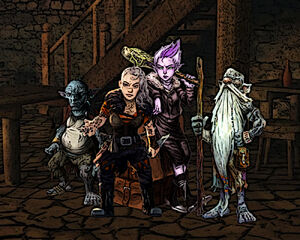 Gnomes are naturally eccentric preferring to overcome obstacles through cunning and innovation rather than the obvious way. Ever curious, gnomes are drawn to adventure more often by a desire to see the world than out of greed or the hope of fame. It is this curiosity, along with their cunning and witty repartee that makes gnomes both entertaining friends and adept arcane spell casters or scholars.
Halflings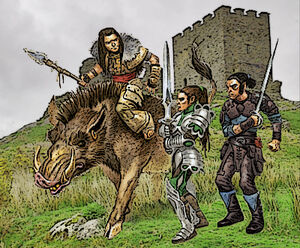 The halfling mind is practical and halflings concern themselves with their immediate surroundings. They take pleasure in simple things, with few aspiring to greatness in the same manner as humans. Some halflings do become adventurers, but usually this is a practice taken up for reasons of necessity rather than personal drive. Because of this love for home and family, halflings make loyal and courageous allies, willing to put their own lives at risk for the sake of others.